arrow_backBack
Recliners External · Leather Nature Hazelnut Brown · Hazelut Brown
infoW: 82 cm / D: 87 cm / H: 112 cm
---
Item# 230031000721101
Customize your own ideal chair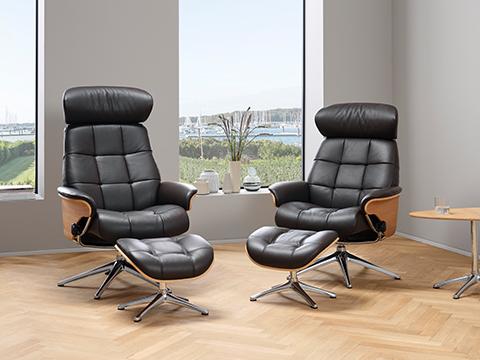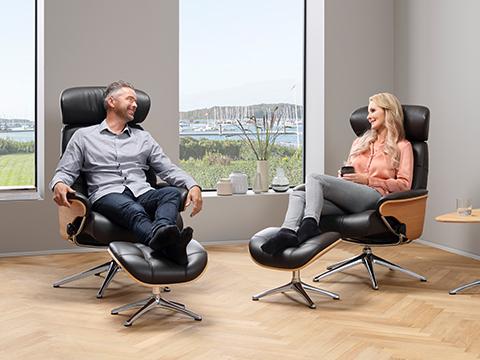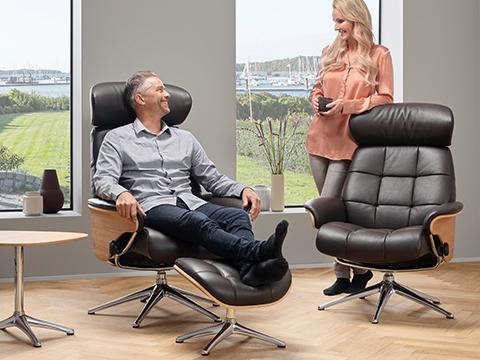 Skagen Relax Chair Separate Footrest
Skagen is designed with a gravity based recline function, adjustable for both height and weight. The dual adjustment mechanism provides you with a natural and stylish retreat, that quickly lets you adjust the angle to your preferred position. The footrest will ensure you a calm place to relax and unwind. The headrest is adjustable in height and angle, to get the best position for reading, watching TV or relaxing.
The shell of the chair is available in different plywood surfaces and colors or as fully upholstered. The elegant aluminum legs are available in Wood Decor, black or polished aluminum.
Skagen is available in Low, Medium and High size.
​
Specifications
All measurements can vary +-3%
Fabric
| | |
| --- | --- |
| Price Group | Nature |
| Color Family | NATURE |
| Color | Brown |
| Colorname | Hazelut Brown |
| Thickness | 1,2-1,4mm |
| Aniline | Full aniline |
| Description | If you want natural and very soft leather, Nature is a great choice. This leather will give you value for your money. Nature is thick, comfortable and very sophisticated leather. |
Legs & Feets
| | |
| --- | --- |
| Leg Description | Polished Aluminium |
| Leg Height | 18.4 |
| Leg Material | Aluminium |
| Leg Number | 101 |
| Leg Surface | Polished Aluminium |
Description
Description

Skagen is designed with a gravity based recline function, adjustable for both height and weight. The dual adjustment mechanism provides you with a natural and stylish retreat, that quickly lets you adjust the angle to your preferred position. The footrest will ensure you a calm place to relax and unwind. The headrest is adjustable in height and angle, to get the best position for reading, watching TV or relaxing.

The shell of the chair is available in different plywood surfaces and colors or as fully upholstered. The elegant aluminum legs are available in Wood Decor, black or polished aluminum.

Skagen is available in Low, Medium and High size.
​

Product Name
Skagen Relax Chair Separate Footrest
Back Height
75 cm
Back type
Fixed
Back Width
60,5 cm
Frame Material
Molded Foam
Seat Depth
53 cm
Seat Depth Reclined
53 cm
Seat Height
47,5 cm
Seat Type
Fixed
Seat Width
51,5 cm
Logistics
| | |
| --- | --- |
| Assembled Width | 82 cm |
| Assembled Depth | 87 cm |
| Assembled Height | 112 cm |