arrow_backBack
Recliners External · Leather Dakota · Modern Cognac Brown
infoW: / D: / H:
---
Item# 250011000742101
Customize your own ideal chair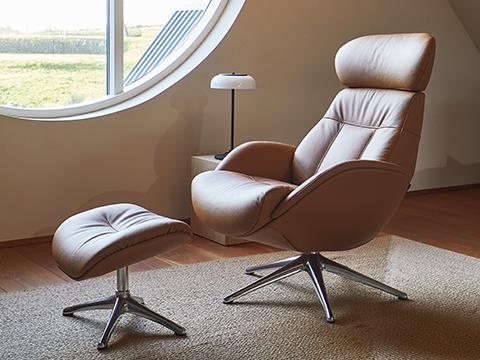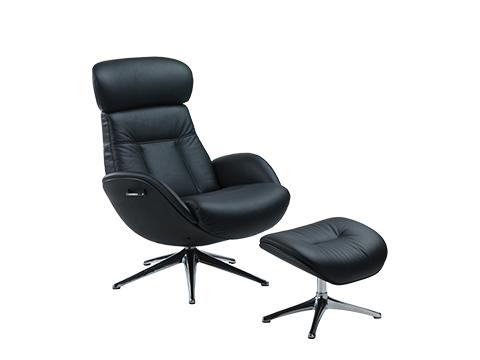 Elegant Relax Chair Separate Footrest
Elegant is designed with a gas spring mechanism which lets you change positions smoothly and effortlessly. The footrest will ensure you a calm place to relax and unwind. The headrest is adjustable in height and angle, to get the best position for reading, watching TV or relaxing. The shell of the Elegant chair is available as fully upholstered. The elegant aluminum legs are available in black, polished aluminum or wood decor.
Specifications
All measurements can vary +-3%
Fabric
| | |
| --- | --- |
| Price Group | Dakota |
| Color Family | DAKOTA |
| Color | Brown |
| Colorname | Modern Cognac Brown |
| Thickness | 1,1mm-1,3mm |
| Aniline | Corrected |
| Description | DAKOTA |
Legs & Feets
| | |
| --- | --- |
| Leg Description | Polished Aluminium |
| Leg Height | 18.4 |
| Leg Material | Aluminium |
| Leg Number | 101 |
| Leg Surface | Polished Aluminium |
Description
| | |
| --- | --- |
| Description | Elegant is designed with a gas spring mechanism which lets you change positions smoothly and effortlessly. The footrest will ensure you a calm place to relax and unwind. The headrest is adjustable in height and angle, to get the best position for reading, watching TV or relaxing. The shell of the Elegant chair is available as fully upholstered. The elegant aluminum legs are available in black, polished aluminum or wood decor. |
| Product Name | Elegant Relax Chair Separate Footrest |